If you're following a paleo diet, you'd better know some of its most popular recipes. Your usual cooking habit won't be completely affected by undertaking a paleo diet, however some minor changes should take place.
When following the caveman diet, people tend to depend more on barbecuing and grilling techniques to cook food. At the same time, they avoid grains since many damages to the gut lining, immune system and other health aspects have been associated with eating them. Paleo diet recipes are relatively simple to make and can save you precious time. On the other hand, the ingredients have to be carefully chosen and you must make sure specific food items aren't used.
[color-box color='' customcolorpicker='' rounded=false dropshadow=false]Tip: study these recipes prior to preparation and observe what changes you have to make to your cooking methods.[/color-box]
Here you will find some great paleo diet recipes that are designed to have a positive effect on your overall health and fitness levels as well as protect you against heart ailments.
Ginger Carrot Soup
A simple recipe for someone following the paleo diet is the ginger carrot soup. This takes just a few minutes to prepare and cook and the result is a dish full of flavor.
The ingredients you need are: fresh carrots, vegetable broth, coconut milk, ginger, garlic, yellow onions, coconut oil, salt, and pepper.
Finely dice the yellow onions and cook them with garlic in a medium-heat pan, pouring coconut oil over them. Next, add the fresh sliced carrots into the pan and cook for some time until the mixture becomes soft and easy to mash. Add salt and pepper for taste and blend the entire mixture. Your ginger carrot soup is now ready to serve.
Chicken Salad with Bacon and Roasted Pumpkin
For this paleo diet recipe, the two key ingredients you need are roast chicken and pumpkin. Secondary ingredients you should get include: some red onions, spring onions, tomatoes, garlic, walnuts, and bacon that will later have to be grilled.
First, cut the pumpkin in small cubes. Cook the cubed pumpkin in olive oil, adding some salt, pepper, and paprika for flavor. Next, cook the pumpkin cubes in roasting racks until they are crispy. Prepare the chicken and add it to the salad. Slice the bacon into thin portions and cook it separately. Once both components are done cooking, sprinkle the bacon over the salad mix. Your chicken salad with bacon and roasted pumpkin is now ready to serve.
Thai Fish Cakes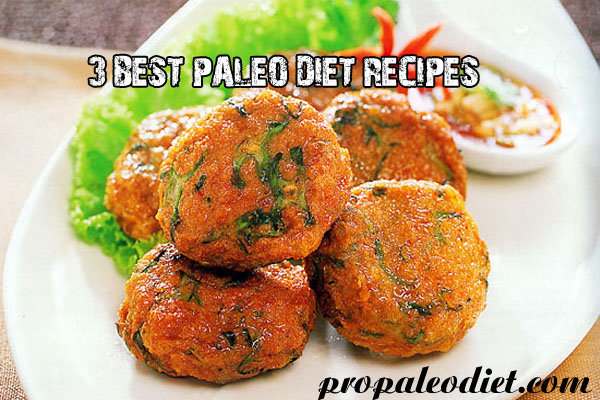 People following the paleo diet tend to concentrate too much on meat dishes and often forget to include seafood, which is a great source of energy and minerals and helps achieve positive results if you're interested in losing weight. The recipe for Thai fish cakes makes a wonderfully flavorful dish, using spices unique to the region.
All you need is some coconut and almond flour instead of normal wheat flour. Finely mince some Thai chili peppers, both red and green, chop up some red onions, and prepare garlic, eggplant, coriander leaves, and ginger to add later. Get some carrots and zucchinis, fish sauce, eggs, and limes. These are the ingredients you need for preparing Thai fish cakes.
Take the bonito fillets and wash and clean them thoroughly, removing all blood lines and the skin. Mash the fish and place the mash in a bowl. Add all the minced ingredients and spices to the fish. Mix the rest of the ingredients with the fish as well – the zucchinis, carrots, and eggplants. Next, add fish sauce and raw eggs to the mixture, and make sure to dredge the cakes in coconut and almond flour. Heat every piece in a grill, and you're ready. Your dish is ready to be served.
Check out our paleo diet recipes for more delicious recipes.